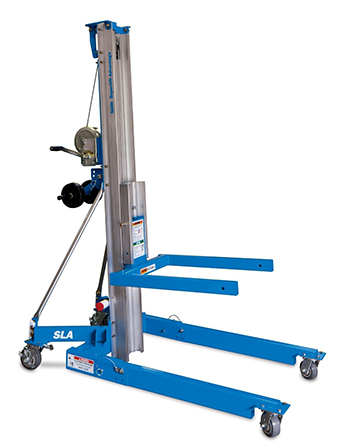 Lifting & Handling
A professional selection of trusted handling and lifting equipment is available for hire in London and the Home Counties. Day Plant Hire offers competitive prices and efficient delivery. We can supply various load capacity chain hoists, from ½ ton to 2 Ton.
Our handling/lifting equipment and tools, as well as our plant hire range, come fully tested to latest regulations. We are able to provide training, guidance and assistance on selected equipment. So no matter how large or small your site, we have the right tools for the job, with discounts available for long term hire.
Hire a Genie Superlift to lift steels up to 20' high and up to weights of 450Kg.
Also we hire pallet trucks and scaffold hoists to lift up to 200Kg.
| HANDLING & LIFTING | 1 DAY | 2 DAYS | 1 WEEK |
| --- | --- | --- | --- |
| CHAIN HOIST (BLOCK & TACKLE) 2TONNE | £27.00 | £34.00 | £45.00 |
| PALLET TRUCK | £22.00 | £28.00 | £36.00 |
| 8M BUMPA HOIST | £120.00 | £150.00 | £180.00 |
| RUBBISH CHUTE PER METRE(MIN 1 WEEK) | £0.00 | £0.00 | £10.00 |
| SUPERLIFT (RSJ LIFT SLA10) 10FT (3M) | £90.00 | £120.00 | £150.00 |
| SUPERLIFT (RSJ LIFT SLA15) 15FT (4.5M) | £90.00 | £120.00 | £150.00 |
| SCAFFOLD HOIST (MIN 1 WEEK) | £0.0 | £0.00 | £106.00 |